In this guide of Vds Automation you will discover what the articulated arm gate motor is, how to identify the most suitable model for your needs and how to install it.
The articulated arm has the function of streamlining the process of opening and closing the leaves of a swing gate, so as to make its use pleasant and immediate.
At the end of the reading you will know how to choose the motor for your swing gate, discovering the two factors to keep in mind to prevent errors and malfunctions and the models suggested by us at VDS Automation.
What is the motor for articulated arm gates
Each swing gate can be equipped with a practical articulated arm to optimize the opening and closing of the leaf. In the case of gates with two hinged leaves, the installation of the articulated arm is carried out on each of them and on the drive unit that regulates the automation.
This is an interesting solution, especially for those who want to preserve the aesthetics of the gate.
As in the case of piston motors, the articulated arm is also strongly recommended for small gates, placed in a residential, condominium and business context.
Read more: Automation of sliding gates thanks to AG Future by VDS Automation
How to choose motor for swing gates?
In order to choose the correct automation for your gate, you should keep in mind some factors:
 

The dimensions:

at this stage you need to define how many leaves the gate has. The objective is to intercept the electrical needs of each leaf.

   

Frequency of use: how many times a day is the gate operated? There are three types of use: residential, condominium and business. Each boasts different requirements and performance.As you will discover in a moment, there are suitable motors to support your project and prevent errors or malfunctions. In fact, the factors reviewed earlier are crucial to scientifically identifying the ideal support to ensure functional use.
To read: Automatic sliding doors for stores: discover VDS Automation solutions
How to motorize a double swing gate?
Choosing to motorize a swing gate means adding comfort to your daily life. In fact, through the use of a convenient remote control, you can start the automation while sitting in your car. This convenience is strategic especially during winter or sultry days, so as to minimize temperature changes and the possibility of contracting a cold or fever. In addition to health, the motorization of a gate saves time, especially when you are in a hurry.
To install automation in your gate you must:
 

Have two pillars

At this stage you need to check the solidity and verticality of each pillar.

 

Know how much each leaf actually weighs,

so as to select the best motor to support its weight and ensure a fast and functional opening;

   

Find the strongest point in which to install the articulated arm, directly on the sash.
During each step, one of our specialized technicians will carry out an inspection to speed up the installation, so as to make it safer for you and your guests.
Which motor to choose for the swing gate?
On our website you will find various types of high performance motors, suitable for various contexts of use. The solutions most appreciated by our customers are the Ibis electromechanical actuator, perfect for intensive use, and Tekno, ideal for those looking for a solution for a medium busy place.  
IBIS – Articulated Electromechanical Actuator
Ibis is the ideal solution for those who have a gate with one or two leaves up to 2.5 meters long. It is an articulated arm motor perfect for those who own a company, a building or a pole that is frequented many times during the day.
Thanks to its high performance, this automation can accommodate large flows of traffic, guaranteeing an opening and closing time of 15 seconds.
The practical articulated arm motor can be installed on doors weighing up to 250 kg. In the IBIS 24 version, this motor can be conveniently mounted on doors weighing 150 kg or less.
Let's find out more about the features of IBIS 230 and IBIS 24:
 

IBIS 230 is the solution for those looking for a high-performance, responsive motor to be installed on a sash weighing 200 kg and up to 2.5 meters long. The motor power is 250 W, making IBIS 230 responsive and extremely quiet

 

The

IBIS 24 version is designed for lighter gates. In fact, this model fits perfectly on gates weighing less than 150 kg and 2 and a half meters long. The motor power is 50 watts and contributes to make this automation silent and easy to use.
Both versions offer high performance and are designed for dynamic and intensive use. During processing, our technicians take care of the automation by applying beneficial substances, such as lithium grease lubrication, in order to prevent corrosion, oxidation and rust formation.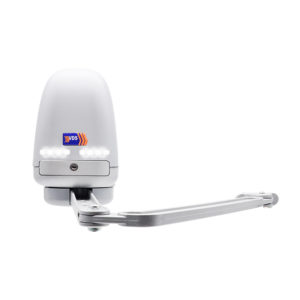 For those who are looking for a medium-intensive solution for doors up to 3 and a half meters long, the electromechanical actuator Tekno is the most recommended solution. Its versatility allows it to support a leaf weight of 800 kg. In addition, the high-performance motor has a power of 250 w, perfect for those who want a snappy and always functional little gem.
Also in this case, the opening and closing times of the doors are very fast. In fact, the automation guarantees efficient transit in 15 seconds.
Like the Ibis models, Tekno is integrated with specific substances to extend its operation and reduce maintenance to a minimum. In fact, choosing the electromechanical actuator Tekno of Vds Automation you will know to have a performing instrument and built with mechanical parts lubricated with lithium grease, so as to reduce the appearance of rust and phenomena of corrosion and oxidation.
Discover the electromechanical actuator Tekno.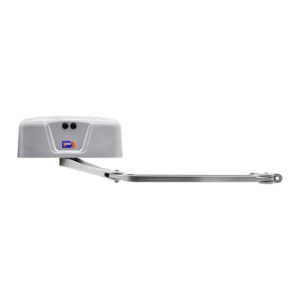 Read more: How to motorize your garage door: our practical tips
What is the articulated arm gate motor – in brief 
We at VDS Automation offer various solutions to make life easier for individuals and companies by installing convenient automations for swing gates. For those looking for a solution for semi-intensive use, capable of supporting gates weighing less than 800 kg, we suggest the 250W Tekno electromechanical actuator.
On the other hand, for intensive use we recommend the IBIS model, in the 230 version for those looking for an automation capable of supporting doors weighing up to 200 kg and IBIS 24 for doors weighing 150 kg.
These are intelligent automations capable of offering reduced opening and closing times. Thanks to targeted processing, our devices are designed to last a long time, offering responsive and fast service at all times.
If you are looking for a definitive solution for your automatic gate, you can send us an email to info@vdsautomation.com.