Never as in this period do we feel the need to safeguard our safety by keeping away from each other and being careful not to expose ourselves too much in closed places.
The protection of our health has gone from wearing a mask to the installation of structures used to limit the entrances and exits of people from one closed place to another.
The problem of access control appeared right from the start also in the sports field, especially in sports facilities.
In the sports field, the best solution immediately proved to be the installation of turnstiles for the gym at the entrance to the facility.
The advantages of the turnstile in the gym
Having a turnstile in the gym, in addition to ensuring perfect control of pedestrian transit in and out, turns out to be a great resource because:
has low installation and management costs
adapts to different environments due to its great versatility
VDS Automation has designed the elegantly Riki-20 automatic turnstile.
In addition to these features, the Riki-20 gym turnstile is equipped with very high technology that allows you to:
Detect the presence of the masks;
Measure the temperature;
Management of entrances;
These three technologies are possible thanks to the "HI SECURITY" tablet that  can be buy  together with the Riki-20 Turnstile.
The perfect communication between the turnstile and the tablet will allow you to be able to detect any anomaly or data that does not comply with the laws currently in force.
Turnstile for gym and covid-19
The pandemic has forced us to redesign spaces and review the way we move around common spaces.
The post covid-19 restart for companies is not easy and it is precisely for this reason that we at VDS Automation have designed the RIKI-20 automatic turnstile.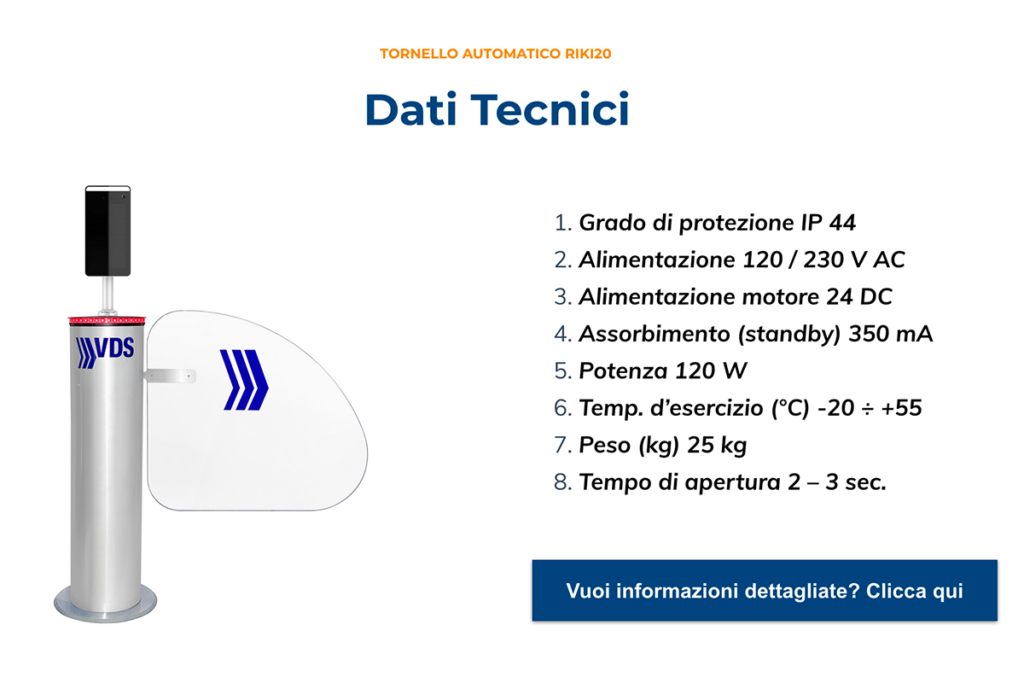 This access control turnstile was created with the aim of providing companies with a product:
in order to encourage or in any case contribute to the economic recovery of our country.
Contact VDS Automation
Do not risk! Access the Riki-20 Turnstile page and fill out the form to ask for more information or contact us for your requests and doubts about it by calling us on +39 085 4971946 or by sending an email to info@vdsautomation.com.
VDS Automation: always on the side of our customers!
Do you want to have more information about Riki-20 Turnstile?
Fill out the form and request information