Automation for gates, automation for doors, gates and barriers. VDS Automation is a leader in the automation sector.
The VDS range includes automation for gates, for sectional and overhead garage doors, for industrial doors and barriers. The VDS automatic entry systems, easy to control and totally reliable, optimize efficiency and energy savings by minimizing the environmental impact.
Swing gate automation: the Pm1 linear electromechanical actuator
To automate a swing gate the VDS offers various solutions based on the weight of your gate and the number of openings.
The PM1 linear electromechanical actuator is perfect for automating your swing gate if your doors are up to 3.5 meters long and if the weight of the leaf reaches 250 kg.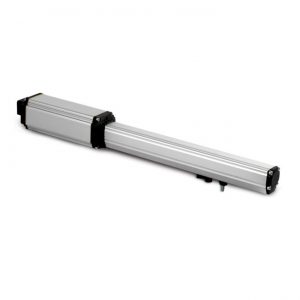 Do you want your automatic swing gate to have an easy and light release mechanism? The Pm1 is the automation that's right for you.
The release system acts directly on the electric motor and in the event of a power failure your automatic gate can be unlocked and opened manually without any effort.
The Pm1 automatic arm is available in two versions: locked or reversible. If you choose the PM1 swing gate automation in its reversible version, you will need to equip your gate with an electric lock.
The technical features of the PM1 piston
Let's take a look at the technical features of the PM1 piston.
The motor power supply is at 230 Vac.
The maximum weight of the door to be automated is 250 kg and 3.5 meters.
Pm1 is available in 3 versions based on the length of the door: up to 1.80 m, 2.50 m, 3.50 m. The opening is up to 120 degrees.
The piston rod is made of stainless steel with a dust scraper system, all the mechanical parts of the motor are lubricated with lithium grease against corrosion, oxidation and rust.
You can use our Pm1 to automate your residential gate or for small and medium-sized condominiums.
The PM1 gate opener kit includes:
2 arms with condenser brackets,
1 control equipment with receiver,
1 pair of photocells,
1 flashing,
1 transmitter.
On our catalog you will find many accessories to complete your installation and to ensure that your automatic gate operates in complete safety.
Swing gate automation: choose VDS Automation
For the automation of swing gates choose VDS Automation, our technicians are at your complete disposal. For any request or information fill out the form.