More and more families are choosing automation for their home shutters. Most of the companies and offices install them for security reasons as well. Here's how to evaluate and why choose motorized shutters.
Today motorisations for rolling shutters have become one of the most frequent automations in private homes and the reason is very simple: with the spread of smart-homes and automations of various kinds, raising and lowering the rolling shutters can be to a pre-set command or a simple tap on the mobile phone. So, they're no longer a luxury item.
Sales of electric shutters have increased significantly in recent years and the models are more sophisticated and adaptable to any housing option.
But not only at home: motorisations for rolling shutters are very frequent in companies and offices, both for practical reasons and – above all – for a factor related to safety.
Why choose electric roller shutters for your home?
There are many good reasons, let's discover them all.
Living comfort
First of all, there is a reason linked to living comfort. With the new smart-home systems and the ability to manage commands and preset preferences via internet, you can choose to get light into your home based on your preferences and needs. Thanks to an intelligent system, motorized shutters can, for example, raise and lower by themselves, in relation to external light or weather conditions or be programmed to open or close at specific times
Accessibility and usability for everyone
t's important to think about the fact that you don't have to make an effort or have to go all over the house to open and close the shutters: especially if there are elderly or disabled people in the house, the motorisation for shutters can be a solution that guarantees full accessibility and autonomy in these daily operations.
Longer life of the shutters
A system of motorized shutters also guarantees a longer life to the shutters themselves, because the movement generated by the electric machine is constant and delicate and doesn't subject the rollers and brackets to jerks and kickbacks which are instead very frequent with classic manual slings.
More home security
You can connect an anti-intrusion system to the electric shutter system in order to have a better security for your home. In this way, on one hand it becomes practically impossible to forget an open window, on the other hand also insurance coverage and alarm systems can be respectively less expensive and more effective.
Why choose motorized (electric) shutters for your company or office?
It goes without saying that all the advantages in terms of comfort and safety that apply to a private home can be applied to an office or a company. Therefore, a motorization for rolling shutters can also guarantee comfort, safety, accessibility and lengthen the life of the rolling shutters, improving the efficiency of the investment.
The electric shutter guarantees greater adaptability to all types of furniture, as it does not need space or external devices, except for the buttons in the case of motorisation for non-automated shutters.
The motorization for rolling shutters in a company that has particularly large windows (for example in production spaces) can be successfully installed even in the case of heavy shutters. In this case, it will be enough to evaluate the right balance between motor power and the weight of the roller shutter to be lifted.
Motorized shutters: zero problems even in the event of a blackout
Motorized rolling shutters are also equipped with a release mechanism that allows you to move the shutter manually in the event of a temporary power outage.
In the company and especially where these systems have been automated by a centralized control system, often the whole apparatus can be connected to an emergency unit which, for a certain time, guarantees that everything continues to function without direct power supply. Even in these cases, however, it's possible to unlock the individual shutters and proceed with manual movement.
How to choose the motorizations for rolling shutters
If you need to help a customer choose the best motors for rolling shutters and awnings, we recommend that you choose a supplier who can guarantee you not only the quality of the products, but also adequate experience in the sector.
The motorisation for rolling shutters gives you:
A new design that minimizes the footprint and makes it easy to access the settings
Mechanical limit switch
Speed, very low acoustic impact and reliability: VDS roller shutter motors are silent
Wide range of adapters and accessories Extra 5 year warranty
On a technical level, VDS Automations motorisations for rolling shutters use a 230 V power supply, are made up of a 60/70 mm bracket and adapter and weigh just 3 kg.
Choose the right roller shutter motor
The gearmotor must have the right and adequate power for the weight of the shutter to be lifted. An engine under stress can risk burning out over time and therefore make the engine ineffective and unsatisfactory for your customer.
Always make sure you select engines with the right characteristics. If you have any doubts, you can contact our technicians or follow the VDS courses for professional installers [form].
Do you want to enrich your service offer with VDS Automazioni? Fill out the form and we will be happy to give you all the information you need.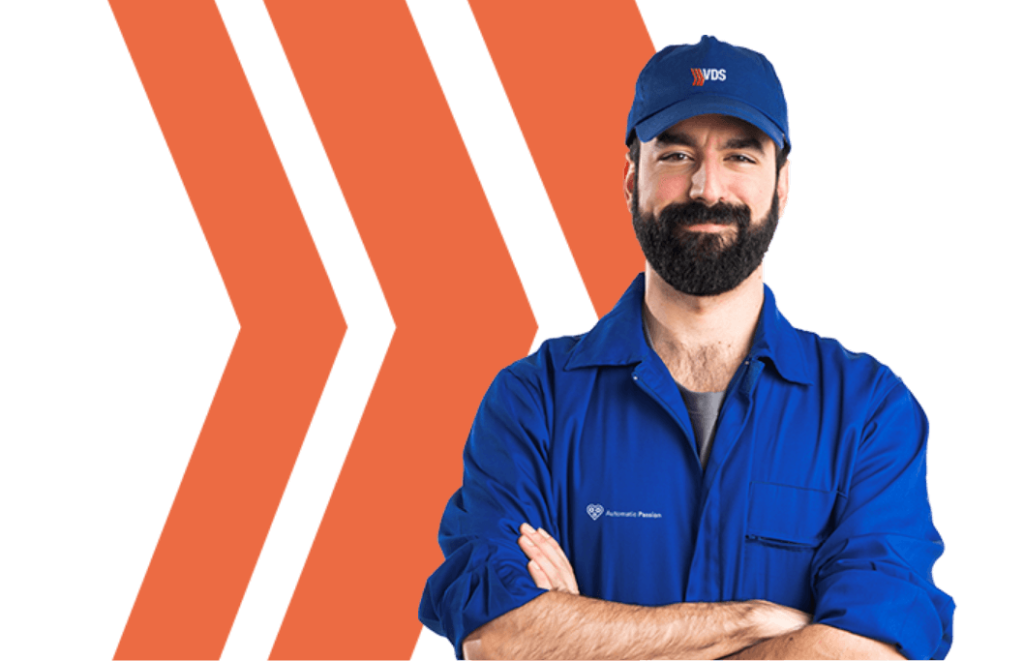 Before each installation, you need to choose between what kind of control you want. If you prefer the remote control or the button. Remotely controlled motors (for example with a remote control or a control unit) may require different interventions and electronic components that you will have to foresee well before installation.
Motorized shutters against expensive bills? It can be a valid help
If your customers fear that the motorized roller shutter is an extra item that affects the cost of electricity, you can make them understand that it is exactly the opposite!
Thanks to an intelligent use of electric shutters, it's possible to save on heating or air conditioning in the house and the reasons are soon explained:
In summer they can be lowered in case of direct sun obtaining natural and immediate cooling and allowing the air conditioning system to work less and more efficiently
In winter they can be kept open during the hottest and sunniest hours, allowing the warmth of the sun to warm the walls and pass through the windows, while in the evening they can be lowered to prevent the cold from penetrating and the accumulated heat from leaving.
Your customers will thank you!